Cambium PTP550 1.4Gbps Connectorized End with AC Power Supply
Service providers, government public safety agencies and critical infrastructure operators such as utilities and energy companies have experienced massive growth in bandwidth demands for reliable and secure broadband connectivity. The nature of these deployments for small-cell backhaul, disaster recovery, video surveillance and Wi-Fi backhaul drive variety of deployment topologies.
Now with the Point-to-Point (PTP)550 Series solution, Cambium Networks combines best-in- class spectral efficiency and reliability with high-capacity multipoint (HCMP) deployment flexibility. With up to 1400 Mbps aggregate throughput, PTP 550 systems let you flexibly, reliably and securely handle today's needs.
FLEXIBLE, SPECTRALLY-EFFICIENT, SELF-OPTIMIZING SUB-6GHZ SOLUTION
Based on our widely deployed, field-proven non-line-of sight (NLOS) technology, PTP 550 wireless Ethernet bridges offer an array of features that gives more capacity, greater operational flexibility and the highest spectral efficiency in the industry. PTP 550 systems provide 4.9 to 6.05 GHz, multi-band flexibility in a single radio and operate in channel sizes from 5 to 45 MHz.
With Dynamic Spectrum Optimization (DSO), PTP 550 systems are constantly optimizing the channel of operation to maximize link reliability and performance. The systems can provide up to 99.999% availability in virtually any environment, including non-line-of-sight, long-distance line-of-sight, high interference, over water, desert and through extreme weather conditions. As a result, you can deliver more throughput with less spectrum and less investment in the most challenging environments.
HIGH-CAPACITY MULTIPOINT and POINT-TO-POINT IN SINGLE SOLUTION
With the PTP 550, operators now have the flexibility to deploy not only in Point to Point topologies but also in High-Capacity Multipoint (HCMP) Applications. HCMP allows up to eight remote nodes to connect to a single master radio. This opens up new deployment models that enable rapid deployment, simplify planning and by using the same hardware regardless of topology a rapid return on investment in equipment and training. Whether your organization is an enterprise, government agency or service provider, PTP 550 systems are ideal solutions for a wide array of applications such as T1/E1 and fiber replacements or extensions, video surveillance backhaul, LTE, macro-cell & small-cell backhaul, last-mile access, disaster recovery, network redundancy and building-to-building campus connectivity.
FIELD TESTED AND SECURITY FOR PERFORMANCE IN THE REAL-WORLD
PTP 550 radios meet industry standards with proven compliance to assure you of interoperability, security and ruggedization.
- FIPS-197 128/256-bit AES encryption
- IEEE 1588v2 and Synchronous Ethernet (SyncE)
- IPv6/IPv4 dual-stack management support
- Ingress Protection rated (IP66/67) protective aluminum radio enclosures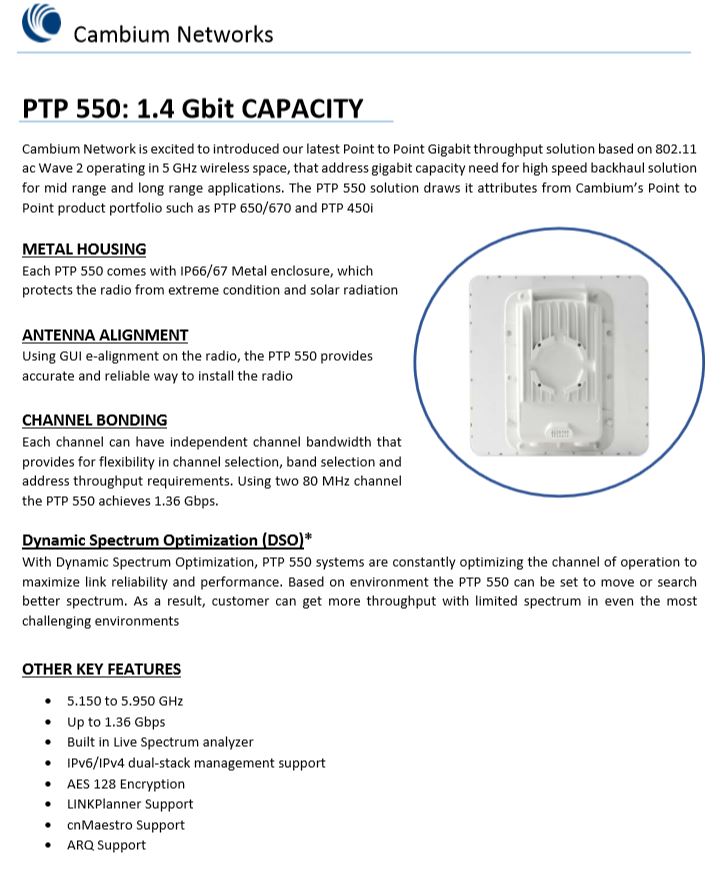 Processor
Clockspeed
4.9-6.05GHz
Cambium PTP550 1.4Gbps Connectorized End with AC Power Supply
Brand: Cambium Networks
Product Code: PTP550 C050055H001A
Reward Points: 68
Availability: In Stock
$688.00

Ex Tax: $688.00
Price in reward points: 68
This product has a minimum quantity of 2
Related Products